CODEPINK CAPE COD
Contact:Debbie McCulloch
dirtnymph@verizon.net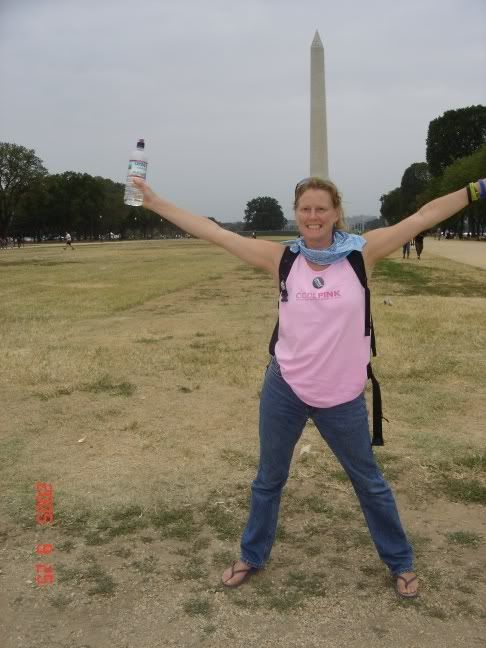 Washington DC Sept '05 for the Out of Iraq March


CAPE CODDERS FOR PEACE/ VFP/CC CODE PINK ARRESTED in Congressman Delahunts office
April 18th 2006.
Click here for a link to this action supporting HR4232


a pretty cool group, including Casey's mom, and my awesome mother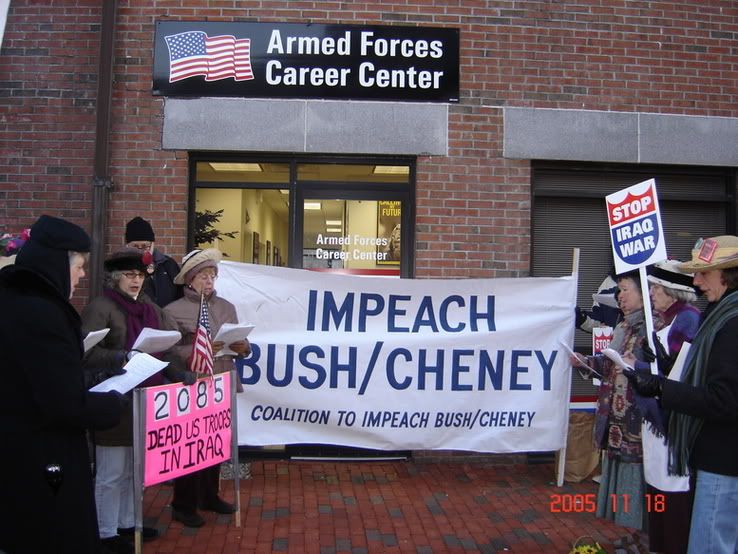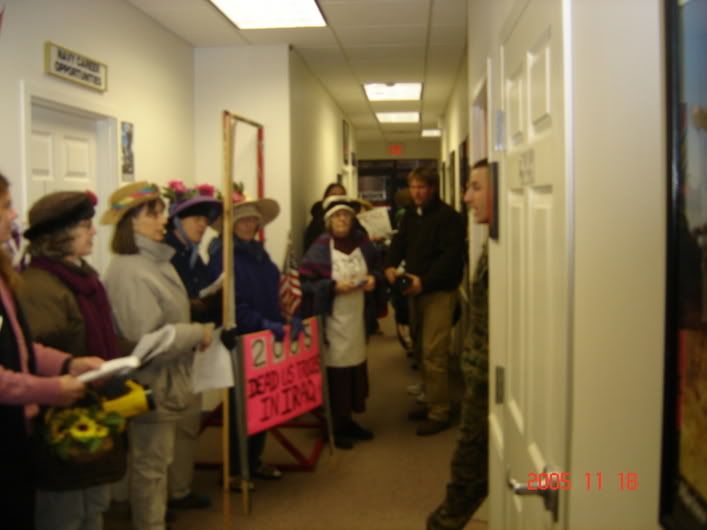 Cape Codders for Peace and Justice doing a little Ragin' Granny action outside, and then inside the recruiting office in Hyannis, MA. Dec. '05 Notice on the sign how they now sell it as a "Career Center"

Happenings/ Calendar
*Upcoming

October 14, 2006- Arlington East

On Saturday, October 14th, Cape Codders for Peace and Justice and Veterans for Peace Cape Cod Chapter plan a day of action building �Arlington East� at Coast Guard Beach on Cape Cod National Seashore, Eastham, MA to memorialize those who have died in Iraq.
CLICK HERE
for more details!
*Ongoing

Weekly Falmouth Peace Vigil-Come join me every Saturday outside the Falmouth Post Office from 11am until 12 pm for our weekly peace vigil. The post office is located on Main Street, Rte 28 in Falmouth MA. The Falmouth Vigilers have been protesting this illegal and immoral war in Iraq every Saturday since before the war began.
Freeway Blogging-Last Labor Day I was joined by the Smedley Butler Brigade of Boston's Veterans for Peace, for 6 hours of freeway blogging on the Bourne Rotary as the summer time tourists left for the season. We had a captive audience as the traffic backs up for hours! I've also had company on Thanksgiving Day, as well as Christmas Eve Day for a few hours reminding travelers that something more important than getting presents and drunk was ongoing in the world. I generally head out to the rotary on high traffic volume days and plan to head out again this Memorial Day. Please join me. Details to be announced, or e-mail me for impromptu sessions.
Links